Dr. Lionel and Fay Ng Dean and Distinguished Professor of Neurobiology and Behavior
Frank LaFerla is the Dr. Lionel and Fay Ng Dean of the UCI School of Biological Sciences and a Distinguished Professor in the Department of Neurobiology and Behavior. He is the Director of the NIH-funded UCI Alzheimer's Disease Research Center and Co-Director of NIH-funded MODEL-AD at UCI, a research effort to develop the next generation of model organisms to evaluate and cure Alzheimer's disease. He previously served as the department chair from 2011-2014 and Director of Institute for Memory Impairments and Neurological Disorders (UCI MIND) from 2008 to 2018.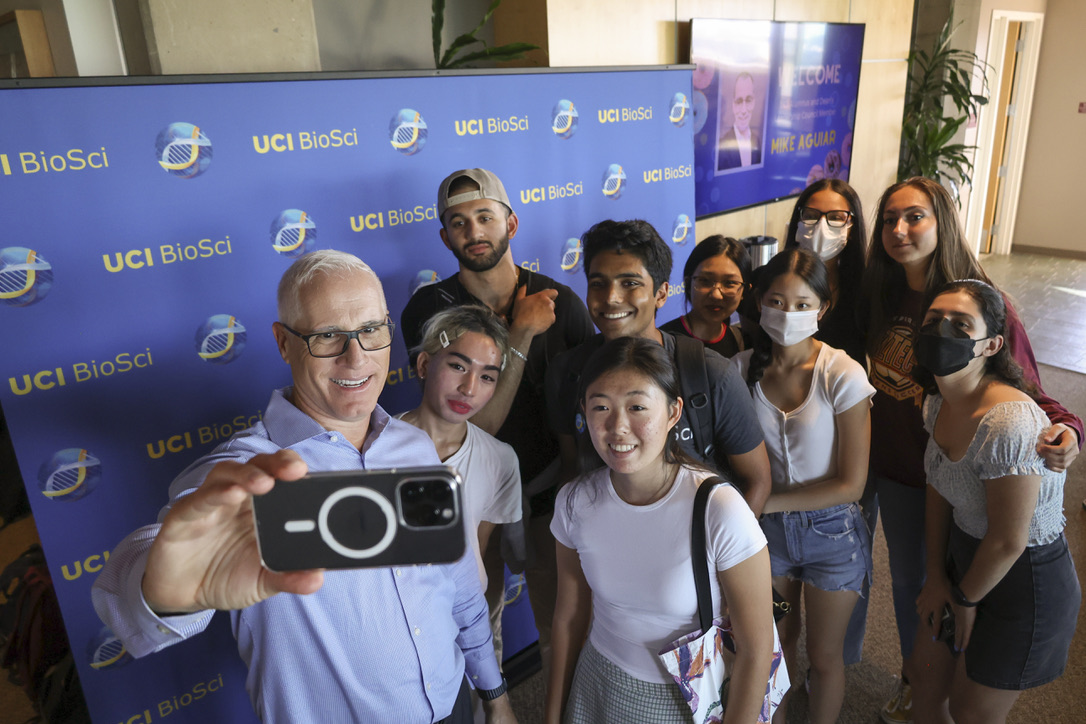 In this picture: Dean Frank Laferla taking a selfie with UCI BioSci undergraduates at Donuts with the Dean. 
Dean LaFerla's research focuses on understanding the pathogenesis of Alzheimer's Disease, the most common form of dementia. His scholarly work has had a global influence on the field, as some of the models he has generated have been distributed to over 150 researchers in more than 20 countries throughout the world. He has published over 225 original peer-reviewed articles and has been listed among the top 1% cited researchers in his field. He is a recipient of the prestigious Ellis Island Medal of Honor and has received multiple honors for his research accomplishments. Some of these honors include the Ruth Salta Junior Investigator Achievement Award from the American Health Assistance Foundation, Zenith Fellows Award from the Alzheimer's Association, Distinguished Mid-Career Faculty Research Award, Promising Work Award from the Metropolitan Life Foundation for Medical Research. He was also elected as a Fellow to the American Association for the Advancement of Science and the American Neurological Association.
Learn More About Dean LaFerla
Educational Background
Saint Joseph's University
Bachelor's of Science (B.S.), Biology
University of Minnesota
Doctor of Philosophy (PhD), Microbiology
Research Interests
Molecular biology of Alzheimer's disease and neurodegenerative disorders; Genetically-modified Animal Models, Neuroinflammation.
Director of Alzheimer's Disease Center
Hobbies and Interests
Tennis is my favorite hobby. I play with the Wilson Pro Staff RF97, which is the same model of racket that Roger Federer uses. I encourage my friends to call me Frank LaFederer, but without much success, I have to admit.
I also love to hike and be outdoors. The mountains in the Palm Springs area are perfect for that; one gets to experience nature and wildlife close and up front. It is fascinating to see how life adapts between Orange County's different coastal environments and the desert.
Recent Books Read
The three books written by the Israeli philosopher Yuval Noah Harari: Sapiens: A Brief History of Humankind; Homo Deus: A Brief History of Tomorrow; and 21 Lessons for the 21st Century. They have influenced the way I think about biology. I have enjoyed them and encourage others to read them.
Awards
Ellis Island Award
2020 Medals of Honor